Governors
Welcome to the Governor info page for Rudyard Kipling Primary School.
Introducing the RKPS Governors
At RKPS, the Governors act as critical friends to the Headteacher and senior leadership team, to provide
independent oversight of the management and operation of a school, with the aim of improving the quality
of education provided and raising standards. Governors are volunteers, and are not involved in running the
school on a day-to-day basis; this is the job of the Head Teacher and other senior staff. Governors support
the school through:
Participating in Governing body meetings - Full governing body meetings are normally held once a term, and consider issues such as setting the school vision, mitigating financial risks, and scrutinising educational outcomes.

Undertaking school visits - these help the Governors to understand more about the school and the reality of school life. Governor visits to classrooms are not a form of inspection, but serve as monitoring function on the implementation of the school's plans and policies.

 Attending committee meetings – there are several statutory committees that must be in place, for example Personnel, Curriculum, Premises, and Finance. Most governors are members of one or two committees, whose work is reported back to the full governing body. This is so all governors are kept informed of matters and working progress.
The current RKPS Governors are:
| | |
| --- | --- |
| Chair of Governors | Margaret Burdsey |
| Vice-Chair | Marilyn Stephens |
| Parent Governors | Andrew Giles, Liz Brand, Craig Munro, Michelle Eades, Katharine Wickenden |
| Co-opted Governors | Danny Jefferson, David Troubridge |
| Staff Governor | Corinne Lovis |
Governor Roles and Responsibilities

Sub-Committee Membership:
Data & Curriculum Group: Michelle Eades, Danny Jefferson, David Troubridge, Marilyn Stephens
Resources: Andrew Giles (Chair), Euan Hanington (Headteacher), Craig Munro, Corinne Lovis, Margaret Burdsey, Danny Jefferson
Strategy & Values: Marilyn Stephens (Chair), Liz Brand, David Troubridge, Euan Hanington

Other Roles: Communications Working Group: Liz Brand, Margaret Burdsey, Euan Hanington, Craig Munro, Danny Jefferson; Pupil Discipline and Exclusion Panel: All governors (pool); Staff Grievance and Discipline Panel: All governors (pool); HT Performance Management Panel: Margaret Burdsey, Marilyn Stephens, shadowed by Andy Giles; Safeguarding: David Troubridge; SEND: David Troubridge; Pupil Premium: David Troubridge: Health and Safety: Craig Munro
Sports Premium: Liz Brand; EYFS link: Michelle Eades; Data Protection: Andy Giles
Working Well Together – a message from the RKPS Governors
2020 has been a strange and unusual year, with many challenges and issues for parents, carers, families and
schools. Looking ahead to 2021, with hope on the COVID horizon and a new Headteacher joining RKPS,
the Governors thought that it felt timely to remind ourselves about how we continue to work well
together.
Staff, governors, parents, carers and children are all part of our vibrant and friendly school community and
to this end we want our school to be happy and safe. We need to work together to set examples of good behaviour and respectful relationships.

Please read our Working Well Together document and make RKPS a centre of excellence in all we do.
RKPS Governing Structure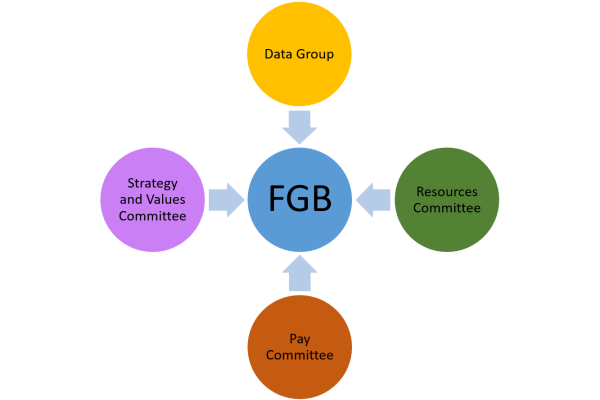 Teamwork